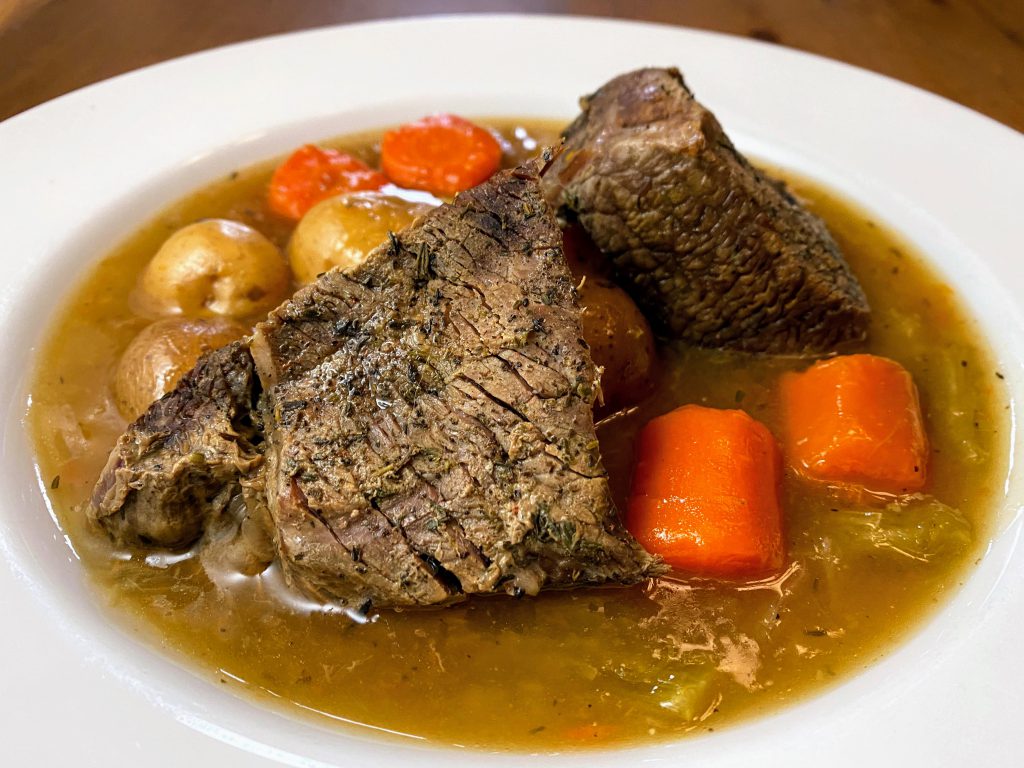 Tough cuts of meat don't need hours in the oven to tenderize when you have a time machine (pressure cooker). You will need to add a bit of corn starch to make the gravy though.
Time: 90 minutes
Serves: 4
Ingredients:
600g baby potatoes
300g carrots – peeled and cut into 2cm pieces
300g celery – cut into 2cm pieces
300g onions – peeled and quartered
250g stock (beef, chicken, or vegetable)
1.2kg beef sirloin tip roast – cut into four slices
15g salt
2g fresh ground black pepper
2g dried thyme leaves
50ml cold water
40g corn starch
Preparation:

Toss the potatoes, carrots, celery, and onions in your pressure cooker.
Add the stock.
In a small bowl, combine the salt, pepper, and thyme. Sprinkle the mixture on both sides of the roast slices while holding them over the vegetables.
Place the roast slices on top of the vegetables.
Seal the pressure cooker and cook on high pressure for 50 minutes, timing once full pressure has been reached. Carefully vent the pressure and remove the lid.
Remove the roast pieces and set them aside.
Put the pressure cooker vessel on medium-heat heat or the "sauté" setting.
In a small bowl, whisk the corn starch into the water. Stir this mixture to the vegetables. Stir gently until the liquid thickens.
Remove from heat and serve immediately with the roast on top of the vegetables.