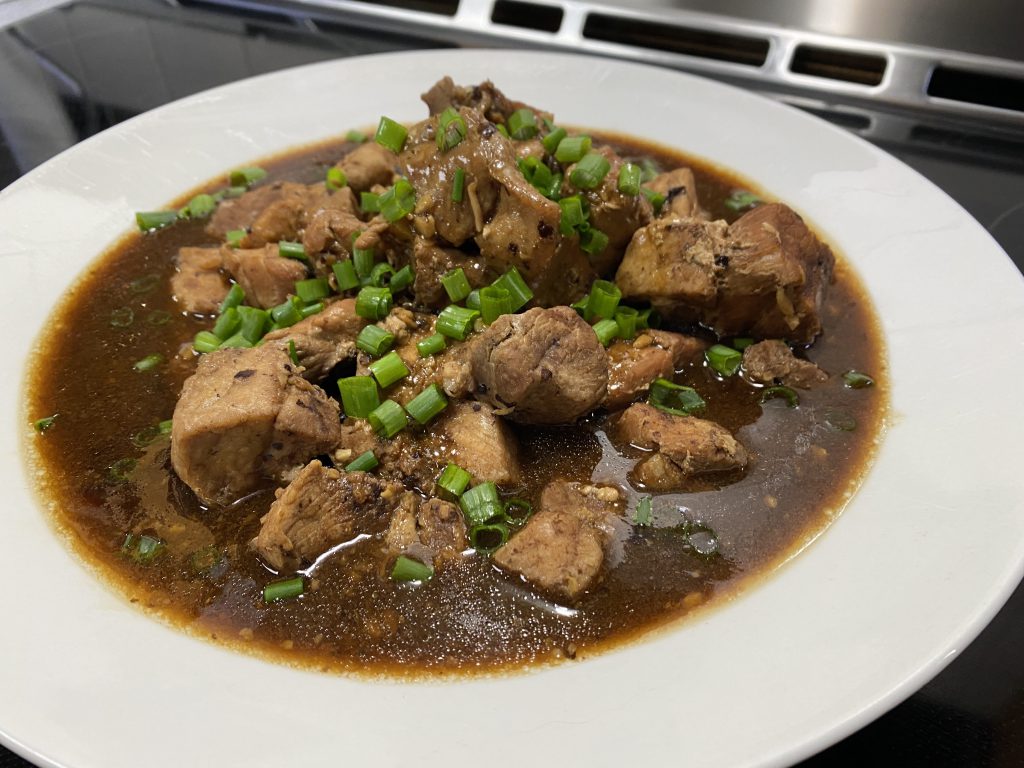 Black bean garlic sauce is pure umami in a jar. If you've never used it before, let this be your introduction. I used lean pork sirloin for the recipe. Shoulder would be fantastic although higher in fat content. If you use shoulder, increase the cooking time under pressure to twenty minutes.
Time: 40 minutes
Serves: 6
Ingredients:
10g cold-pressed avocado oil (or other cold-pressed neutral-flavoured oil)
10g fresh ginger – peeled and finely chopped
4 cloves garlic – finely chopped
100g + 20g water
50g black bean garlic sauce
30g soy sauce
30g Chinese cooking wine or dry sherry
1kg pork sirloin – cubed in 2-3cm pieces
20g corn starch
6 green onions (green portion only) sliced
Preparation:

Place your pressure cooker vessel with the oil in it on medium-high heat or activate the sauté setting on an electric model.
When the oil is hot, add the ginger and garlic, stirring often until the garlic just begins to brown.
Stir in the 100ml water, black bean sauce, soy sauce, and wine. Add the pork and stir to coat.
Seal the cooker and cook at high pressure for 10 minutes, beginning timing once pressure is reached.
Remove from heat if using a stove-top cooker or turn off an electric model. Safely release the pressure.
Using tongs or a slotted spoon, move the pork to a serving dish.
In a small cup or bowl, whisk together the 20g water and the corn starch.
Place the cooking vessel with sauce back on medium-high heat or turn on the sauté setting. Stir in the corn starch slurry and simmer until the sauce thickens slightly.
Remove from heat.
Serve the pork topped with sauce and garnished with the green onion.