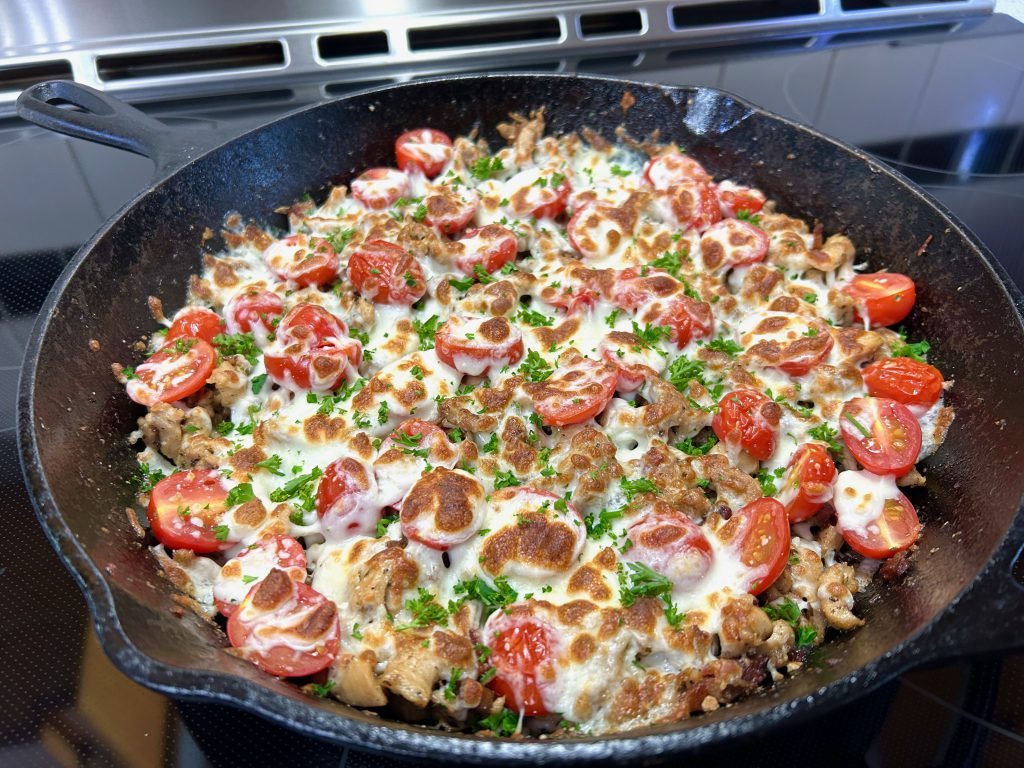 Thanks to my amazing wife for brainstorming this one with me. We had bacon and chicken I wanted to use up. Deciding on a flavour profile and the other ingredients took only a few minutes once we tossed a few ideas around. We think the result is delicious! Let me know your thoughts once you make it.
Time: 30 minutes
Serves: 4
Ingredients:
8 strips thick-sliced bacon – cut into matchsticks
1kg boneless skinless chicken thighs – cut into strips
2 cloves garlic – finely chopped or grated
3g salt
1g dried oregano
1g dried basil
1g fresh ground black pepper
250g grape tomatoes – halved
150g mozzarella cheese – shredded
Finely chopped parsley to garnish
Preparation:
Place a large, oven-safe frying pan on medium heat.
Add the bacon and cook, stirring occasionally, until lightly browned. Pour off the fat, leaving the bacon in the pan.
Turn heat to medium-high. Add the chicken and garlic. Sprinkle with the salt, basil, oregano, and pepper. Cook, stirring occasionally until the chicken is cooked through (approximately ten minutes).
Remove from heat. Top with the tomatoes and mozzarella.
Place under a broiler until the cheese is melted and beginning to brown.
Remove from heat. Garnish with parsley and serve immediately.