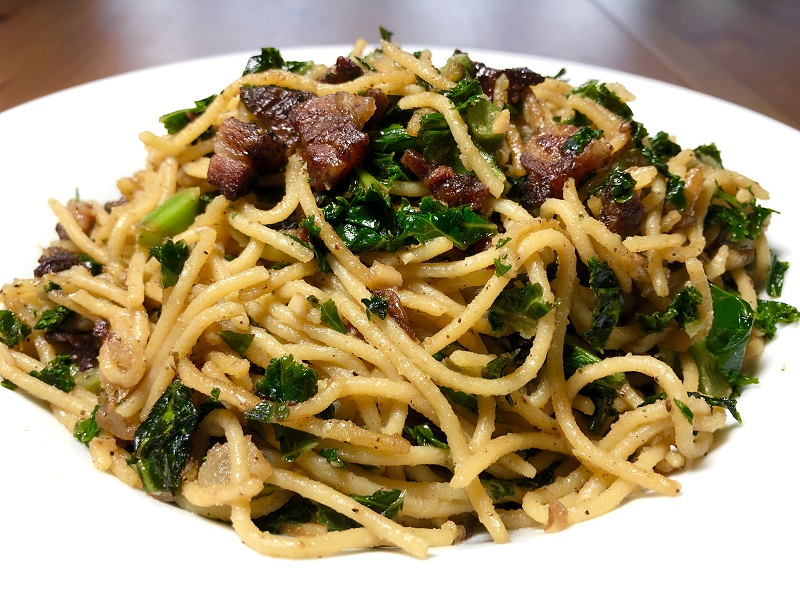 Sure you could make this with regular spaghetti, but why? Chickpea spaghetti has loads of flavour and more protein to keep you lean and strong!
It takes only twenty minutes if you have the spaghetti boiled ahead or cook it while prepping the rest.
Time: 20 minutes
Serves: 4
Ingredients:
200g pancetta – small dice
100g onion – diced
3 cloves garlic – chopped
150g kale – chopped (previously frozen is fine)
0.5g fresh ground black pepper
227g package chickpea spaghetti – cooked al dente in water salted at 10g per litre – drained
Preparation:

Place a large frying pan on medium heat. Add the pancetta, stirring occasionally until lightly browned (approximately five minutes). Remove the pancetta with a slotted spoon and set aside.
Add the onion and garlic to the pan, stirring often until the onions are softened (approximately three minutes).
Add the kale and pepper, stirring often for three minutes.
Return the pancetta to the pan along with the spaghetti. Toss often until warmed through (about two minutes).
Remove from heat and serve immediately.