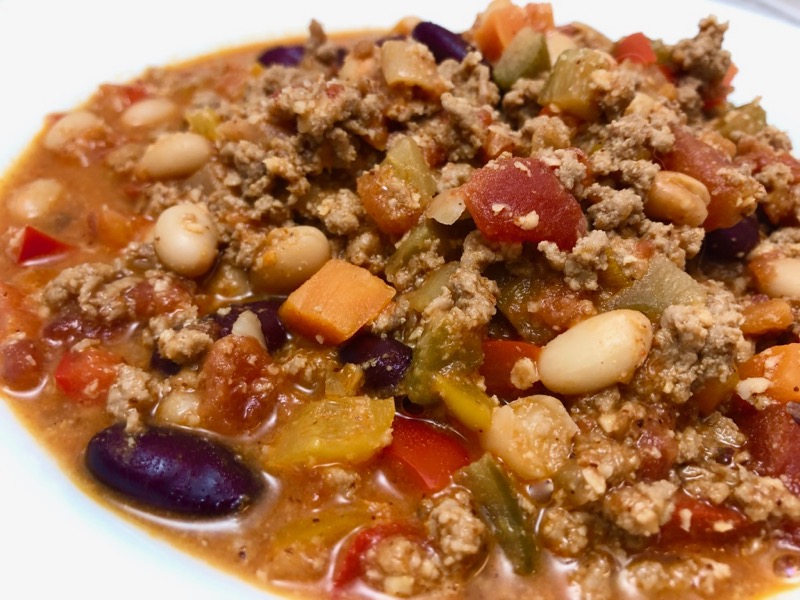 I usually keep the recipes to four servings here, but chili is so good reheated, you'll want leftovers. This isn't just a standard beef chili with turkey in its place either, but a true turkey recipe with lighter flavours, including some ground almonds for texture.
Time: 60 minutes
Serves: 8
Ingredients:
20ml avocado oil (or other cold-pressed neutral flavoured oil)
900g ground turkey
20g chili powder
12g salt
8g paprika
4g ground cumin
400ml chicken stock
400g bell peppers – diced
150g onion – diced
150g celery – diced
150g carrots – diced
6 cloves garlic – finely chopped or grated
796ml can diced tomatoes
540ml can kidney beans – rinsed and drained
540ml can navy beans – rinsed and drained
100g ground almonds
Preparation:
Place a large pot on medium-high heat and add the oil. Add the turkey, stirring occasionally and breaking apart for eight minutes.
Add the chili, salt, paprika, and cumin, stirring occasionally for two minutes.
Add the remaining ingredients except green onion.
Turn heat to high and bring to a boil. Reduce heat to simmer for 30 minutes.
Remove from heat and serve immediately or reheat later.