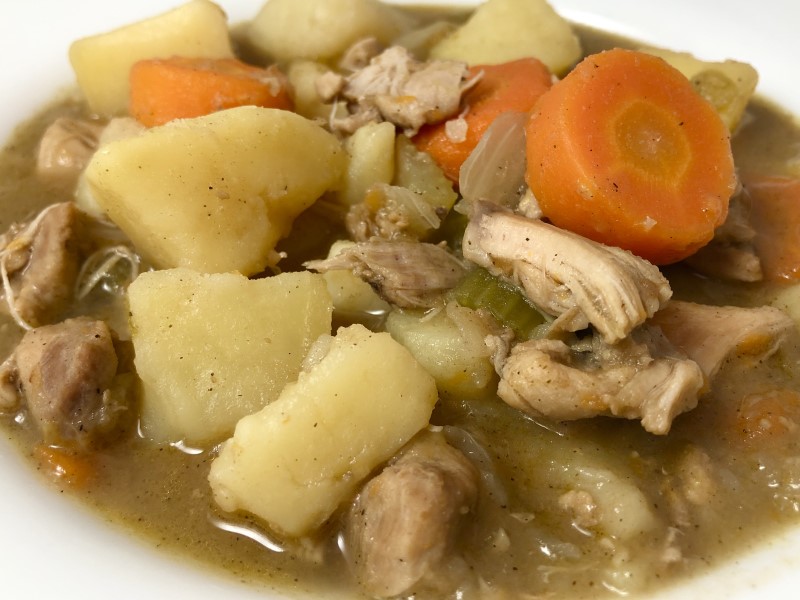 It's winter. Get used to seeing soups and stews from me. Actually, every season is soup season. You can thicken this with a little instant-blend four, rather than mashing a few chunks of potato if you prefer.
Time: 70 minutes
Serves: 6
Ingredients:
30ml avocado oil (or other cold-pressed, neutral-flavoured oil)
1kg boneless skinless chicken thighs – cubed
6 stocks celery – sliced
4 carrots – peeled and sliced
1 large onion – chopped
13g salt
1g fresh ground black pepper
2g ground rosemary
2g ground thyme
1g ground sage
1kg red potatoes – peeled and cubed
750ml chicken stock
200ml Marsala wine (or additional chicken stock)
Preparation:

Place a large pot on medium-high heat. Add the oil.
When the oil is hot, add the chicken, stirring occasionally for five minutes.
Add the celery, carrots, onion, salt, pepper and spices, stirring occasionally for five minutes.
Stir in the remaining ingredients, bring to a boil, then reduce heat to simmer uncovered for 40 minutes, stirring occasionally.
Mash some of the potato pieces and stir to thicken the stew.
Remove from heat and serve immediately or reheat later.