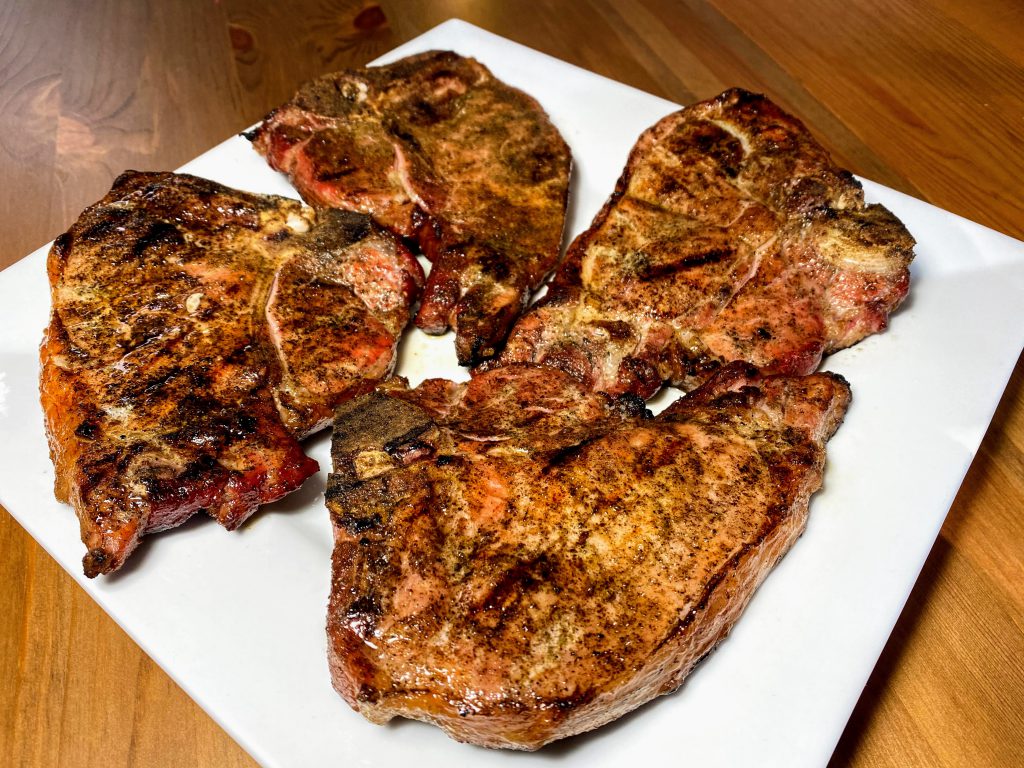 I don't even like pork chops that much normally, but much like the pork belly recipe that also uses the word, I call these chops "perfect" because of the spice blend. It's simply amazing with pork.
The cooking technique is called "reverse sear" and I learned it from Meathead Goldwyn's book. You dry-brine the meat to hold in moisture and impart flavour then, slow cook it over indirect heat to keep it juicy and tender. It's finished with a quick sear to add that flavour only the Maillard reaction can deliver. It's best done on an outdoor grill, but your oven will work as well. Give the technique a try with beef steaks for the best ones you've ever had. Dry-brine, skip the spices and cook to different internal temperatures. The rest is the same.
Time: 90 minutes (plus dry-brining time)
Serves: 4
Ingredients:
1.2kg bone-in pork loin chops – trimmed of fat
12g salt
4g garlic powder
3g fresh ground black pepper
2g ground fennel
2g ground rosemary
2g ground sage
Preparation:

Place pork chops on the rack of a roasting pan. Sprinkle salt evenly on both sides. Refrigerate uncovered for 2 hours to overnight.
Preheat your cooking device to 110C.
Combine the remaining ingredients in a spice shaker and dust both sides of the chops with the mixture.
Place the chops on the cooker on indirect heat and close the lid. Cook until the internal temperature of the chops reaches 50C.
Set the chops aside and bring the cooker to maximum temperature.
Sear the chops on direct heat, turning often, until the internal temperature reaches 60C.
Remove from heat and serve immediately.