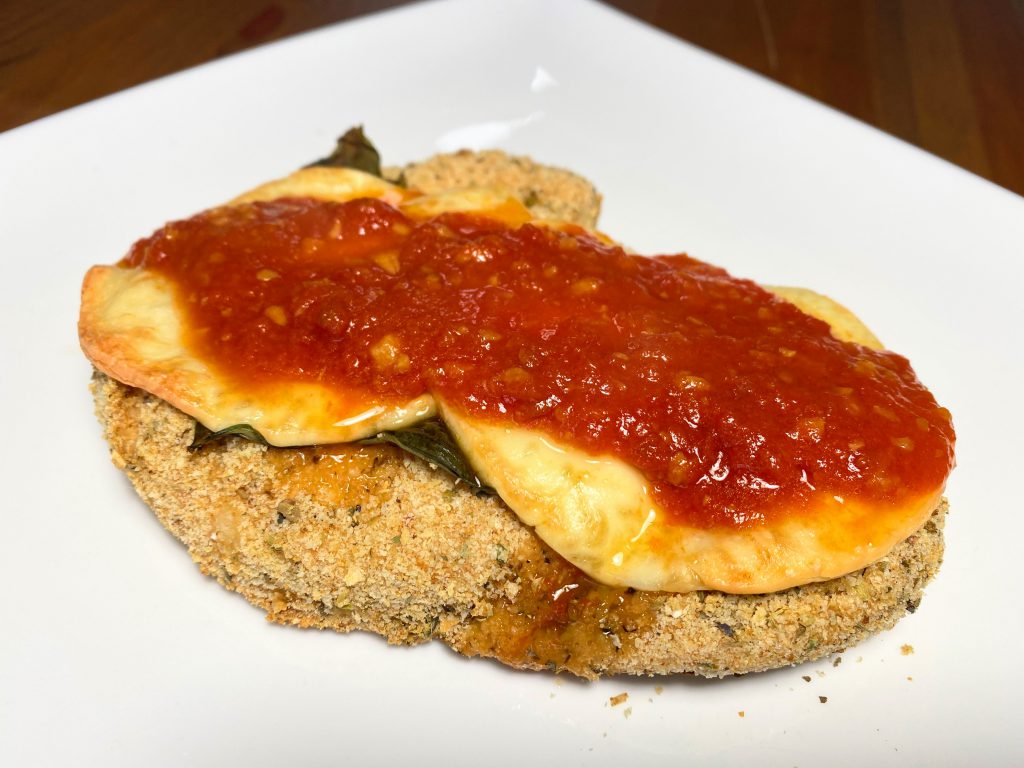 I served this topped with a little tomato sauce. A whole lot of tomato sauce with some pasta or spaghetti squash would be great too!
Time: 45 minutes
Serves: 2
Ingredients:
500g boneless skinless chicken breast (approximately 2)
5g salt
75g plain breadcrumbs
2g garlic powder
1g dried oregano
1g dried basil
0.5g fresh ground black pepper
2 eggs
4g fresh basil leaves – whole
80g provolone cheese (approximately four slices)
Preparation:
Preheat your oven to 200C.
Place each chicken breast between two sheets of cling wrap. Pound with a heavy cast frying pan or meat mallet to achieve an even thickness of roughly one centimetre.
Sprinkle the salt on both sides of the chicken and set aside.
In a tray or shallow bowl suitable for dredging, combine the breadcrumbs, garlic powder, oregano, basil, and black pepper.
Lightly beat the eggs in a second shallow bowl or tray.
Line a baking sheet with parchment paper.
Dredge each chicken breast in the egg then, shake off any excess, and dredge in the breadcrumb mixture. Place on the parchment when done. Discard excess egg and breadcrumb mixture.
Bake until the internal temperature of the chicken reaches 65C (approximately fifteen minutes). Remove from oven.
Place the basil leaves on top of the chicken and cover with the cheese slices. Return to the oven and bake until the cheese melts. Confirm the internal temperature has reached 71C.
Remove from the oven and serve.