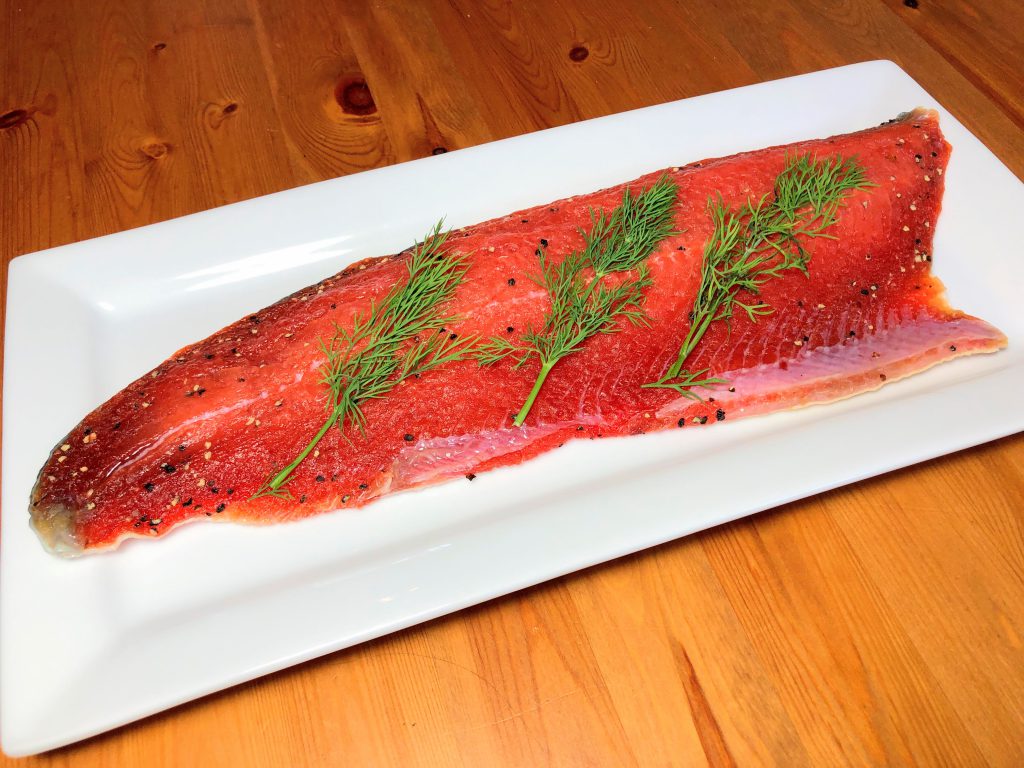 This could be part of a main course or an exceptional appetizer. If the salmon filet you find is labelled "previously frozen" it'll be fine for curing. Just don't try to use those individually frozen pieces that you find in a bag in the freezer section. The recipe was written for a smaller tail section of salmon, so if you find a much larger filet, scale the other ingredients up accordingly and give it an extra day or two of curing time in the fridge. If you have a vacuum sealer, use that rather than cling wrap or a zipper seal bag. It's easier and the results are even better! Slice it very thinly on an angle to leave the skin behind.
Time: 10 minutes (plus curing time)
Serves: 4
Ingredients:
80g salt
80g white sugar
15g cracked black pepper
500g skin-on salmon filet
20g fresh dill springs (plus additional for serving)
Preparation:
In a small bowl, combine salt, sugar, and pepper.
Place salmon in a large zipper seal bag or on sheets of cling wrap large enough to wrap salmon.
Cover both sides of salmon evenly with the salt mixture. Top non-skin side with dill springs.
Remove all air from zipper bag and seal or wrap tightly with cling wrap, ensuring salmon is well sealed.
Refrigerate for two days.
Remove salmon from plastic and rise well under cold water. Pat dry with paper towel and serve topped with additional dill sprigs or cover and refrigerate for up to five days.