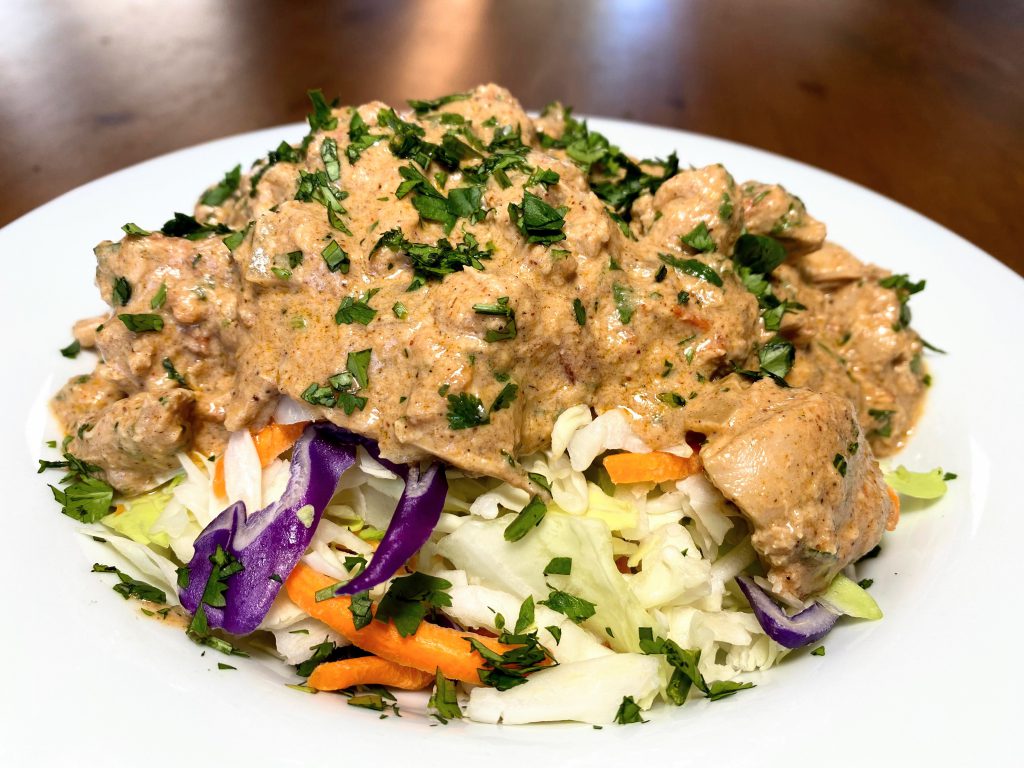 This a revised version of the original "Butterless Chicken" recipe I wrote back in 2011. This one is even less authentic because it uses ground spices rather than whole, making for quicker preparation and easier eating because you don't have to pick out the cardamom pods and bay leaves. Fear not, the flavours are still complex. If you've got ghee, use it in place of the avocado oil to take things up another notch. I served it on slaw mix. You'll likely prefer basmati rice.
Time: 60 minutes
Serves: 6
Ingredients:
30g cold-pressed avocado oil (or other cold-pressed neutral-flavoured oil)
250g onion – diced
10g chili powder
5g garam masala
3g ground cardamom
2g ground cinnamon
2g ground ginger
1g ground cloves
8 cloves garlic – finely chopped or grated
10g salt
1kg boneless-skinless chicken thighs – diced
500g plain Icelandic yoghurt
796ml can diced tomatoes
1 bunch fresh cilantro – chopped
Preparation:
Place a large pot om medium heat.
When the oil is hot, add the onion, stirring occasionally for five minutes or until translucent.
Add the chili powder, garam masala, cardamom, cinnamon, ginger and cloves, stirring often for one minute.
Add the garlic, stirring often for one minute.
Stir in the remaining ingredients except for cilantro. Bring to a boil, then reduce heat to simmer, partially covered, for forty minutes.
Remove from heat, stir in the cilantro, and serve.