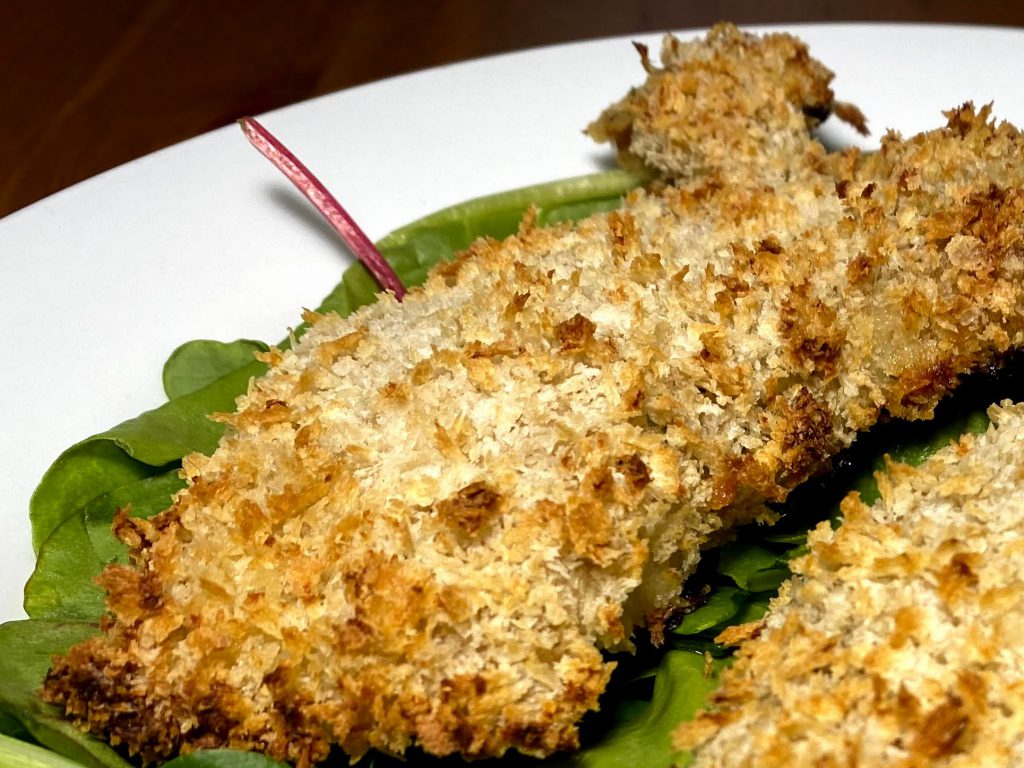 Breaded things always look better when they're deep-fried. We're not doing that, so you'll have to accept these chicken strips just the way they are. Regardless, they taste fantastic! If you haven't got panko crumbs around, use regular bread crumbs. You could also use strips of chicken breast, but thighs are more flavourful.
Time: 40 minutes (plus marinading time)
Serves: 8
Ingredients:
500ml buttermilk
15g salt
2g onion powder
2g garlic powder
2g fresh ground black pepper
1g ground rosemary
1g ground sage
1g ground thyme
1g dried parsley
1kg boneless skinless chicken thighs
200g panko crumbs
Preparation:
In a suitable bowl or measuring cup, whisk together all ingredients except the chicken and panko.
Unroll the chicken thighs and place in a zipper seal bag. Pour in the buttermilk mixture. Squeeze the chicken from the outside of the bag to make sure all parts get coated. Remove the air from the bag, seal, and refrigerate for at least an hour or, ideally, overnight.
Preheat your oven to 220C.
Place parchment paper on two baking sheets.
Spread the panko in a shallow pan or dish. Remove each chicken thigh from the bag and coat with the panko, placing the thighs in a single layer on the parchment. Discard the buttermilk mixture.
Bake the chicken for thirty minutes or until the panko browns and the internal temperature reaches 74C.
Remove from the oven and serve immediately.