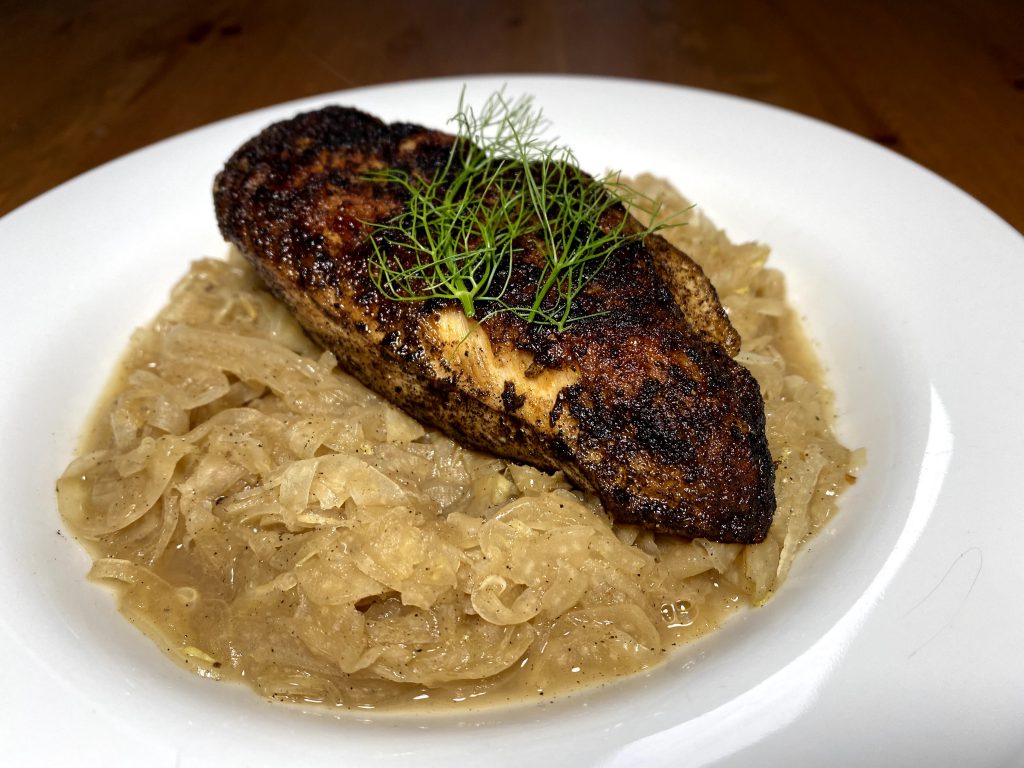 The ground spices in hot oil can get a little smoky, but it's worth it for the result. Crank up the range hood and get cooking!
Time: 45 minutes
Serves: 2
Ingredients:
500g boneless skinless chicken breasts (two large pieces)
10g salt
20g cold-pressed avocado oil (or other cold-pressed neutral-flavoured oil)
1g ground thyme
1g ground sage
1g white pepper
2 onions – peeled and thinly sliced
2 fennel bulbs – thinly sliced
250g chicken stock
15g fresh lemon juice
Preparation:

Sprinkle five grams of the salt on both sides of the chicken and set aside.
Place a large frying pan on medium heat and add the oil.
When the oil is hot, add the thyme, sage, and pepper, stirring constantly for five seconds.
Add the chicken breast. Cook for five minutes per side, then cover until the internal temperature reaches 74C. Set the chicken aside to keep warm.
Add the onion and fennel to the pan. Sprinkle with the remaining salt. Cook, stirring occasionally for five minutes.
Add the stock and lemon juice, stirring occasionally for five minutes. Remove from heat.
Serve the chicken on top of the onion and fennel, topped with the sauce.