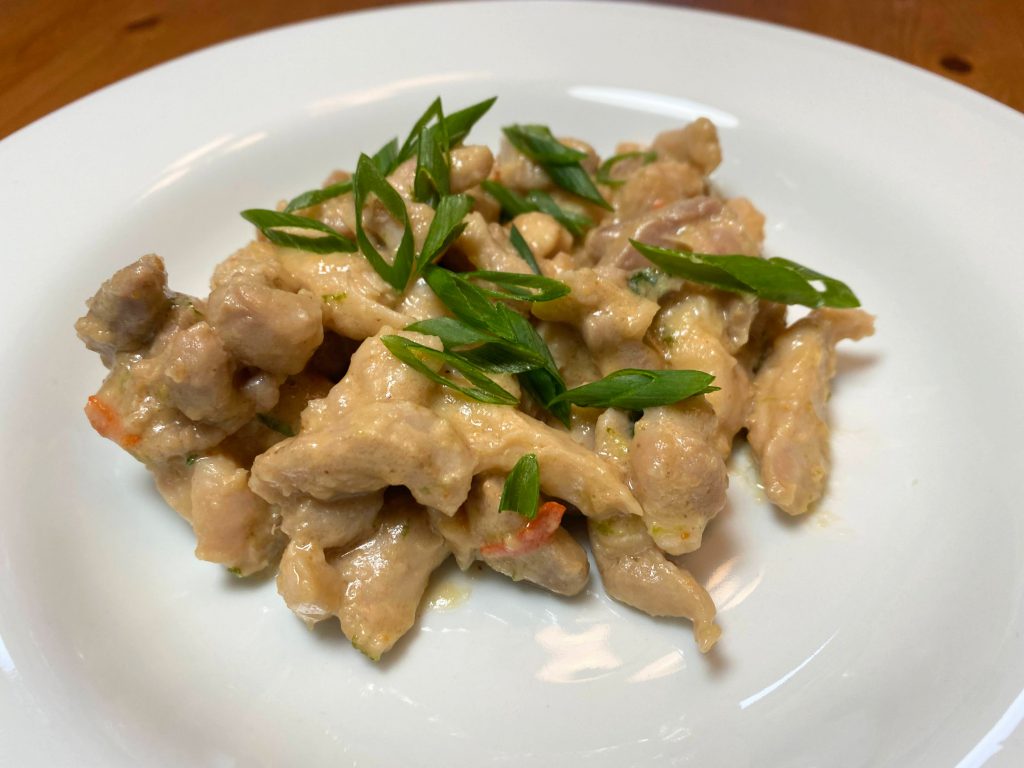 It's stir-fry time again! That means don't even think about putting anything in the wok until all of your ingredients are prepped and at hand. Ready, set, go!
Time: 30 minutes
Serves: 6
Ingredients:
1kg boneless skinless chicken thighs – sliced in strips
15g fish sauce
7g salt
150g chicken stock
100g creamed coconut
100g peanut butter
20g cold-pressed avocado oil (or other cold-pressed neutral-flavoured oil)
2 red Thai chili peppers – seeded and thinly sliced
6 green onions – sliced (plus additional for serving)
1 lime – finely grated zest and juice only
Preparation:

In a suitable bowl, toss the chicken, fish sauce, and five grams of the salt. Set aside.
Bring the chicken stock to a simmer in a small pot. Remove from heat then, stir in the coconut and peanut butter. Set aside.
Place a heavy wok or large, heavy frying pan on high heat.
When the wok is very hot, add the oil.
Stir-fry the chicken until nearly cooked through (approximately four minutes).
Add the chilies and half of the green onions, stir-frying for another minute.
Pour in the stock mixture, stirring often for two more minutes.
Remove from heat.
Stir in the lime zest, juice, and remaining two grams of salt.
Serve garnished with the remaining green onion.