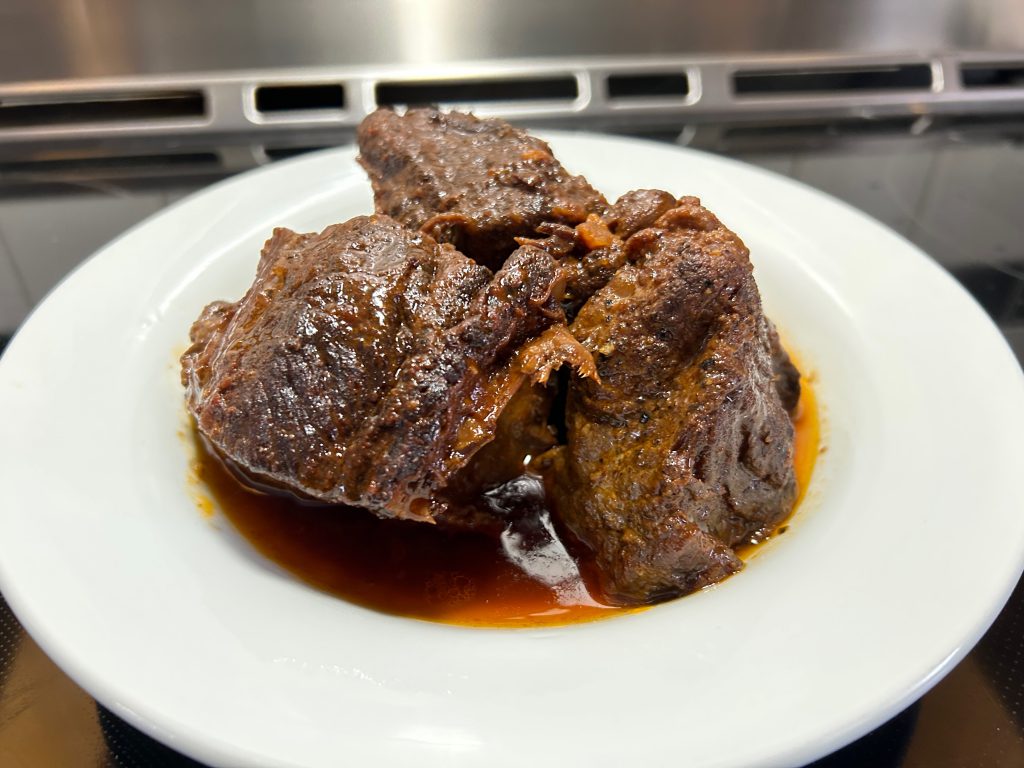 Sure, this would have looked prettier garnished with some sliced green onion but I was working with what I had on-hand. Short ribs don't have to be a four-hour cooking event. You can make them for a relatively fast weeknight meal, thanks to the time machine known as a pressure cooker.
Time: 90 minutes
Serves: 6
Ingredients:
15g salt
10g bold beef blend
2kg beef (or other large ruminant) short ribs
30g cold-pressed avocado oil (or other cold-pressed neutral-flavoured oil)
6 cloves garlic – roughly chopped
150g water
150g aged balsamic vinegar
150g tomato paste
30g Dijon mustard
Preparation:
In a small bowl, combine the salt and spice blend.
Sprinkle evenly on all sides of the short ribs.
Place your pressure cooker vessel on medium-high heat or use the sauté setting on an electric model.
Add the oil to the cooker.
When the oil is hot, brown all sides of the short ribs, working in batches. Set aside the ribs once browned.
Add the garlic to the cooker, stirring often for one minute.
Add the remaining ingredients, stirring to combine.
Return the ribs to the cooker in a single layer if possible.
Seal the cooker and place on high heat until pressure is reached then reduce heat to maintain pressure or set your electric cooker for high pressure. Pressure cook for fifty minutes, beginning timing once pressure is reached.
Remove the cooker from heat or turn off an electric model. Safely vent the pressure and remove the lid.
Serve the short ribs with the cooking liquid spooned over top.